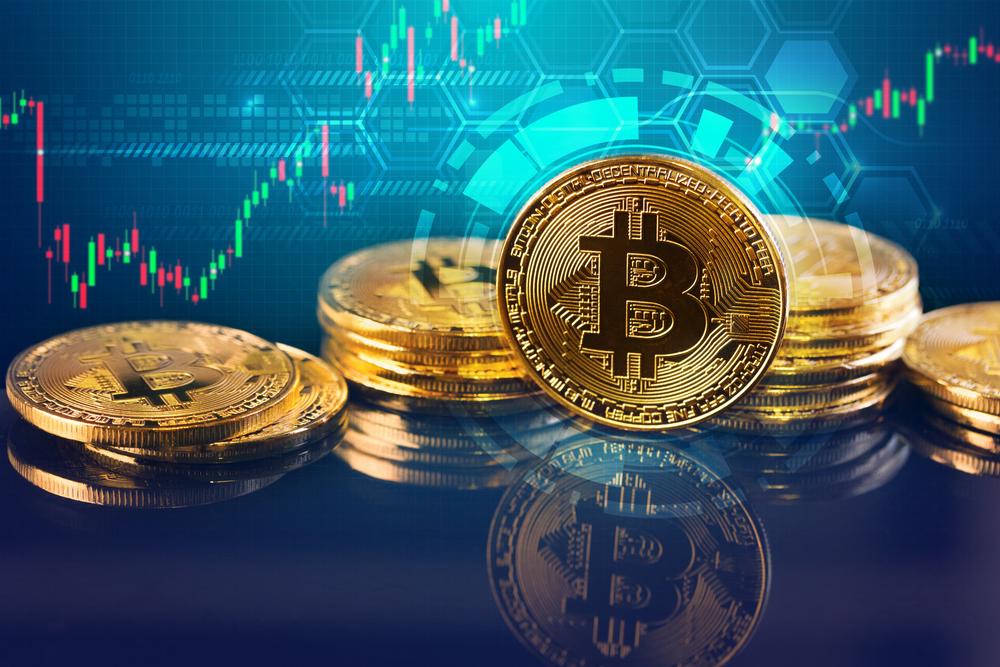 Source: Jaruwan Jaiyangyuen – Shutterstock
Bitcoin continues to move in the narrow price range between $9,500 and $10,000 and could prepare for a breakout, according to analysts.

The Altcoin market around ETH and XRP is following Bitcoin and is also moving sideway.
---
Bitcoin has been "trapped" in the $9,500 to $10,000 price range for several days, so BTC has not yet managed to break through the important $10,000 mark. In the last 24 hours, the Bitcoin price has risen 1.69% to a price of $9,787.60. The market capitalization has increased from $176 billion to $179 billion.
Bitcoin trader and analyst Josh Rager describes that Bitcoin is at an important point and the bulls must now take the reins. In a chart shared with his community, he describes that Bitcoin must break through the resistance along the $10,000 USD line in order for BTC to continue its bullish performance of the past days and weeks.
$BTC daily trendline from 2017 still in play on logarithmic line chart

Gotta close it out above $10k bulls pic.twitter.com/h48Ax5dg3G

— Josh Rager 📈 (@Josh_Rager) May 19, 2020
Mohit Sorout, co-founder at Bitazu Capital, explains on Twitter that Bitcoin could rise to $11,000 in the next few days. In his opinion Bitcoin has found strong support along the $9,200 mark and is now testing the trend line drawn in the chart. If this can be broken, Bitcoin may reach a new local high.
It's almost as if $btc wants to get teleported to $11k pic.twitter.com/EA0NMXTwsR

— Mohit Sorout 📈 (@singhsoro) May 19, 2020
Rafael Schultze-Kraft, co-founder of the data research company Glassnode, describes that there are currently 14% more Bitcoin addresses holding 0.1 BTC or more than a year ago. The report goes on to say that not only small retail investors, but also whales have increasingly bought Bitcoin in recent weeks and significantly increased their stocks
There are now more than 3 million #Bitcoin addresses holding at least 0.1 $BTC (current value: $975 USD).

That's 14% more addresses than one year ago today.https://t.co/RcisyC9olV pic.twitter.com/Gi2FcRrLah

— Rafael Schultze-Kraft (@n3ocortex) May 17, 2020
New data from the analysis platform Skew.com also shows that the volume of BTC Futures Open Interest on the Chicago Mercantile Exchange (CME) has risen to $600 million. This means that investors are preparing to buy Bitcoin at a predetermined price on a specific date.
The Forex and crypto trader "Livercoin" describes that FOMO (Fear of Missing Out) may attract new capital into the market as Bitcoin is close to the $10,000 mark and investors may be afraid of missing another breakout. He goes on to say that a large number of buy orders in the $10,000 to $10,700 price range have been placed on Bitfinex in the last 24 hours.
A bunch of large orders appeared in the 10000 and 10700 region shortly after MM activity stopped on Bitfinex.

Suggestions?#Bitcoin pic.twitter.com/kkJr1Di38v

— Livercoin (@livercoin) May 19, 2020
Meanwhile, Ethereum shows a strong correlation with BTC and rises by 1.05% to a price of $212.78. XRP shows a similar development and is moving sideways (+ 0.98%). The price of XRP was around $0.20 at the time of writing.

Last updated on