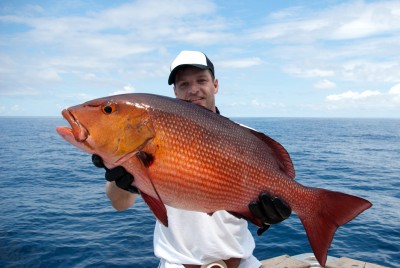 Blockchain has a role to play in securing the seafood supply chain, but risks being undermined by "hyperinflated" claims perpetuated by the media, says a new report.
The review by the United Nations' Food and Agricultural Organisation (FAO) says that at the moment blockchain projects tend to be led by private enterprise, only cover part of the supply chain and generally only include a single jurisdiction, and that means the true role of the technology remains largely untested.
There's a clear role for blockchain in improving efficiencies and accountability when used for seafood traceability, say the authors, but it has limitations too.
The tech won't stop illegal, unreported and unregulated (IUU) fishing, overfishing and discarding, for example, but could make the supply chain more transparent, and potentially help prevent food fraud and poor-quality products entering the market if deployed effectively.
The current media discourse that it is a magic bullet – solving a multiple of issues like IUU fishing, seafood safety, species fraud, and labour issues – "risks hyperinflating expectations on what this technology can offer, with potential operators then walking away because it does not deliver on the hype built around it."
Deployed correctly, blockchain-driven traceability could however become the "substrate over which digital solutions need to operate," says the FAO.
Blockchain traceability may work best in fisheries that voluntarily intend to demonstrate their compliance to transparency – either to meet laws, policy or consumer demands – or in those that are looking for a self-controlling mechanism to foster trust among competitors, according to the report.
Permissioned consortium blockchains – where the network is governed by a group rather than a single entity and is only accessible by named participants – have the greatest potential in the current state of the technology to be scaled to address seafood traceability, according to the FAO.
This type of network allows data-sharing without making commercially-sensitive information publicly available, and could allow partners to get workflow efficiencies, share information and resources, as well as improve accountability and transparency.
This type of network sidesteps "concerns of high energy use and slow transaction times that public permissionless blockchains have," says the report.
There have been several examples of blockchain-based traceability projects in the last few years, tending to focus on high-value fish species like tuna and Patagonian toothfish, and in all cases have tried to create a link between the physical and digital spheres through the use of anchors like QR codes.
One example is Project Provenance in Indonesia, which concerned pole-and-line and handline fishing for yellowfin tuna loins and skipjack tuna intended for canning.
The pilot project relied on fishers and suppliers sending a text message to register their entire catch, which was physically tagged with a QR code or other tech such as radiofrequency identification (RFID) chips.
The catch was then transferred to suppliers both physically and digitally using the Provenance app when landed, tracked through the processing stage. In the final stage, the retailer applied a near-field communication (NFC) smart label to the can that could be read using a smartphone to get the provenance.
The Provenance project exemplifies some limitations common to many of the projects covered in the report, including reliance on human input of fish data that could be open to tampering and the use of physical tags that could be lost, damaged or interfered with.
Last year, a report from Juniper Research suggested widespread adoption of blockchain across the food industry could save $31bn lost to fraud such as mislabelling, dilution or substitution, as well as from slashing the cost of complying with regulations.
In 2018, another FAO report said an effective science-based fish traceability system is needed in order to combat the "widespread" and "serious" problem of food fraud in the fisheries sector.