Poloniex is a cryptocurrency headquartered in the United States. It started in 2014, and over the years, it has helped users buy, trade and sell cryptocurrencies with ease. Aside from providing cryptocurrency exchange services, it also has margin trading and lending services as well.
What Is Poloniex?
Poloniex is a cryptocurrency exchange platform with experience in assets exchange. It focuses on buying, selling, and trading of cryptos with the slogan: "Get in, trade, cash out, repeat."
This emphasizes the ease of doing cryptocurrency trading using Poloniex. It has more than 100 spot trading pairs and offers more than 25 margin trading pairs to the user's convenience.
Top Rated Bitcoin Exchange 2020
EXCHANGE

RATING

FEATURES

VISIT


Excellent Reputation

Regulated PlatformVariety of CoinsAvailable via App

75% of retail investors lose money
when trading CFDs with this provider
Who Created Poloniex?
Poloniex was founded by Tristan D'Agosta in 2014. This is headquartered in San Francisco, California, and provides services to US traders. However, there is news that this platform has shut down its operations to US customers.
In October 2019, Poloniex customers from the US were unable to create a new account. In November 2019, US customers had no access to trading and were unable to deposit their assets to Poloniex. The platform announced that it was giving its customers in the US up to December 15, 2019, to withdraw their cryptocurrency.
Is Poloniex Safe?
Poloniex is safe in so far as customer verification is concerned. It has three levels of verification. For level 1, you must verify basic information like your name, your email address, and where you are located. Passing level 1 will allow you to trade on margin and withdraw from your account up to $2,000.
At level 2, you must provide your current address, your phone number, and a scanned photo ID. Poloniex will take days to complete, but once verified, you will be allowed to make withdrawals up to $25,000. For level 3, a special list of documents or requirements will be asked, and passing level 3 will give you withdrawal access of more than $25,000.
Poloniex Sign-Up Guide
To experience the trading process on Poloniex, here's how to go through sign-up quickly:
User Guide
Step 1: Sign Up Process
Sign up is very straightforward with Poloniex. You can sign up from the Poloniex website using your laptop or PC, or you may use your smartphone and download the Poloniex app available on Google Play for Android and on Apple Play for iPhone users.
Click Sign Up and follow the instructions to prepare your new account.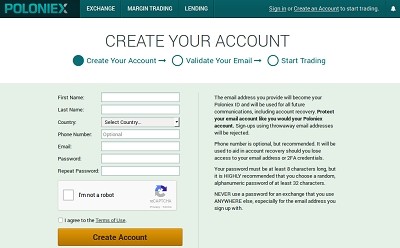 Step 2: Account Verification
Verification is made up of three levels with verification requirements becoming more complicated but allows you more freedom to use the Poloniex platform.
Photo verification is one of the most intricate ways to verify your identity. It must be your photo holding a hand-written note with the word POLONIEX with the current date of the month, day, and year format.
Step 3: Account Deposit
Poloniex only accepts deposits using cryptocurrencies. The most popular cryptocurrencies in Poloniex are Bitcoin, Dash, Ethereum, Litecoin, Monero, and Zcash. It also supports 80+ different kinds of Altcoins.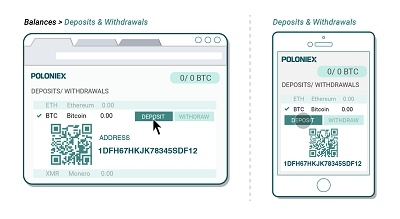 Step 4: Buying Cryptocurrencies
To buy cryptocurrency, your account must have cryptocurrency deposits. To proceed, sign in to your account from the Poloniex website or through the app.
Click your Wallet and tap Buy to buy cryptocurrency. Select the currency you want to purchase and the amount. Choose the payment option depending on the crypto in your wallet.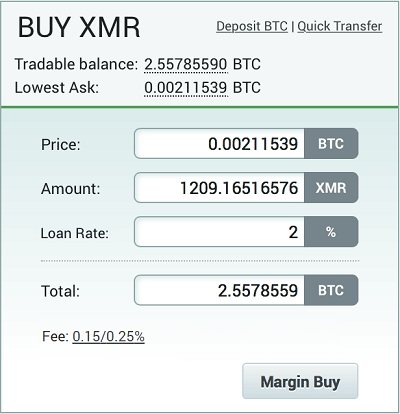 You can buy the following cryptocurrencies: ATOM, BTC, LTC, TRX, XLM as well as XRP, to name a few.
Step 5: Selling Cryptocurrencies
In selling crypto, log in to your account; click Sell to sell your selected cryptocurrency. Follow the prompts and complete the transaction by following Poloniex's verification process.
Poloniex Fees
Poloniex fees follow a standard maker-taker model. Experts say that this model encourages liquidity, and thus users get a fair deal. Liquidity is vital for the platform because it supports 80+ Altcoins.
Poloniex can charge 0.15% maker's fee and 0.25% taker's fee for < 600 BTC to 0.00% maker's fee and 0.05% taker's fee for >120,000 BTC transactions. Lenders earn a flat fee of 15% + interest. There are no fees for deposits and withdrawals.
Poloniex Deposit & Withdrawal Methods
Poloniex is partners with Simplex, which allows users to buy cryptocurrency using their debit cards and credit cards. Purchases will be deposited into their accounts.
To deposit using your card, choose from EUR, USD, CAD, GBP, JPY, PLN, ZAR, and TRY. You may still purchase even if your credit card is in another currency. You may be subjected to fees coming from your bank.
Features of Poloniex
Advantages of Poloniex
Poloniex is a powerful tool when you're trading cryptocurrency. Although it's not as encompassing as other exchange platforms, Poloniex has many cryptos under its wing. It also has a large library of articles and blog posts to help new traders.
How Does Poloniex Compare to Other Exchanges?
Poloniex offers lending services to customers making it the only cryptocurrency platform to do so. It does not support US customers, though, and it redirects former US clients to a US-based site.
Pros and Cons of Poloniex
Pros
✅Poloniex charges no fees for deposits and withdrawals.
✅Poloniex has very minimal fees for trading cryptocurrencies.
✅Offers a helpful tool in the form of articles and blogs to help first-time users.
✅It offers a user-friendly app so users can trade on the go.
✅Offers abundant liquidity and margin trading.
✅You can choose from a wide variety of Altcoins.
Cons
❌It does not entertain US users and has withdrawn support for US customers.
❌It only allows deposits and withdrawals in cryptocurrency.
❌Limited customer support – only through submitting a ticket.
❌Fewer cryptocurrencies accepted.
FAQs
Can You Deposit USD to Poloniex?
No, you cannot deposit USD as well as other fiat currencies in Poloniex. It only accepts cryptocurrency deposits.
How Long Does It Take to Withdraw from Poloniex?
It takes 24 hours for a withdrawal to push through when you're using Poloniex. This is included in their terms and conditions and must be read by users before proceeding with any trade.
Where Is Poloniex Located?
Poloniex headquarters is established in 2014 in San Francisco, California. It was designed to cater to US-based traders of various cryptocurrencies. However, Poloniex has decided to close its doors to US customers in 2019, and many think this is due to poor regulations in cryptocurrency trading.
Is Poloniex Closing in the US?
Poloniex announced last year that it is closing its doors to US customers and has redirected all remaining US users to a US-based service. It is still unclear why this is happening, but it seems that it's all about the lack of clarity in cryptocurrency regulations, according to Circle CEO Jeremy Allaire. This reason was the same reason why Allaire moved his own cryptocurrency exchange company from his previous headquarters to Bermuda, where laws on crypto trading are laxer.
Conclusion
Poloniex is a cryptocurrency platform that provides support for different cryptocurrencies, especially popular ones like Bitcoin, Ethereum, Dash, Litecoin, and Monero, to name a few. It also offers loans to qualified users.
However, it does not accept fiat deposits, only cryptocurrency. It does not accept US customers and new account applicants from the US. It is a platform for beginners and experts unless you're from the US, and you intend to make deposits using fiat currencies.
Top Rated Bitcoin Exchange 2020