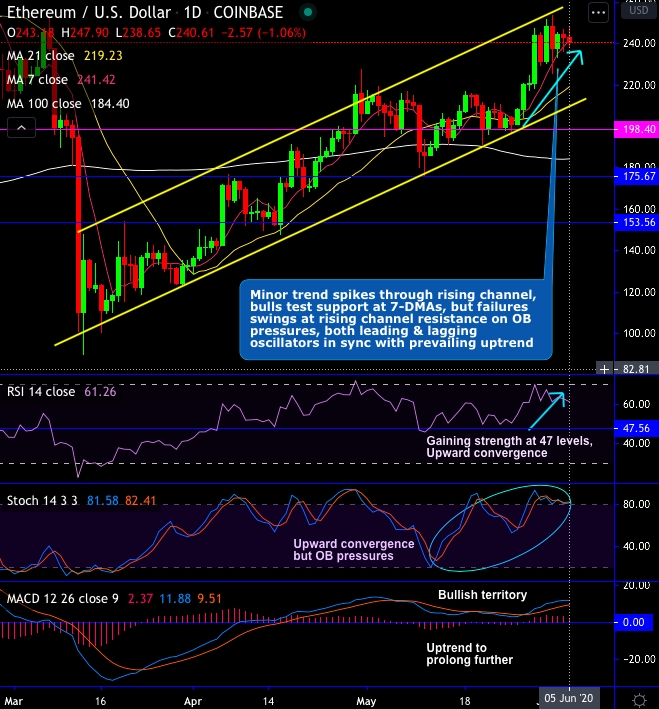 Ethereum has been luring among the crypto-space with its underlying price and fundamentals as we expected earlier in our recent posts.
OKEx extends its crypto-derivative product-line by unveiling ether options, we recently covered this news.
No doubt, Ethereum blockchain has been gaining its popularity in its adoption, the renowned instances are ranging from JPM coin to the U.S. Federal reserve chairman, Jerome Powell's inclination on Ethereum-based interest reference rate, which he thinks such development can work for specific group of people.
ETHUSD price has performed phenomenal during lockdown period due to the pandemic, it has surged more than 71% in just last 3-months.
Technically, the minor trend tests support at 7-DMAs, the uptrend spikes through rising channel pattern, as both leading & lagging oscillators are moving in tandem with the prevailing rallies.
Currently, it is trading at $240 levels (while articulating), the first time since it hit this mark in about three months. For now, more rallies on the cards, $300 looks quite achievable in the months to come.
Ethereum 2.0 is structured differently from ETH 1.0, in that it focuses on DApps existing as unique shards under the umbrella of Ethereum.
While the entire cryptocurrency industry was struggling, the ethereum ecosystem continues to expand. Exciting new DeFi ventures are grabbing headlines every week, from decentralized VPN providers to blockchain infrastructure projects to payment providers.
Jerome Powell, the chair at the Fed, expressed a stance in a correspondence with Senator Tom Cotton about interest reference rate based on the Ethereum blockchain, termed Ameribor, which would be suitable for specific group, if not for all. 
Furthermore, the co-founder of Ethereum and the Ethereum Foundation, Vitalik Buterin, recently stated that Layer 2 scaling solutions are starting to show results. "While everyone wasn't looking," Buterin tweeted, "the initial deployment of Ethereum's layer 2 scaling strategy has 'basically succeeded'. What's left is refinement and deployment."
In a nutshell, the Ethereum ecosystem seems to be conducive for various businesses as it's been developing towards a major network update, the platform enables developers build blockchain applications with their business requirements and rationale.