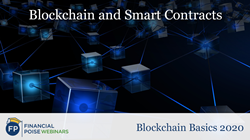 This webinar examines blockchain smart contracts and answers many questions about this technology of emerging importance.

CHICAGO (PRWEB)
June 26, 2020
About the Series: Blockchain smart contracts (with much smaller but still meaningful stakes) are computer code designed to adjust automatically the rights and obligations of network participants based upon the inputting of information to the network, with such information visible to all and inputted per means and procedures agreed upon by all before the contracts become effective.
About the Episode: Samson Williams likens blockchain to a group text message, in which each participant receives a distributed, time-stamped, tamper-resistant (and encrypted) record of data transactions. Each group text has these characteristics. Everyone in the group "sees" the data, and none can change or gainsay any group message. Smart contracts are computer code put on the blockchain that establishes self-executing terms and conditions of a transaction.
To learn more and register, click here.
The webinar will be available on-demand after its premiere. As with every Financial Poise Webinar, it will be an engaging and plain English conversation designed to entertain as it teaches.
About Financial Poise –

Financial Poise has one mission: to provide reliable plain English business, financial and legal education to investors, private business owners and executives, and their respective trusted advisors. Financial Poise content is created by seasoned, respected experts who are invited to join our Faculty only after being recommended by current Faculty Members. Our editorial staff then works to make sure all content is easily digestible. Financial Poise is a meritocracy; nobody can "buy" their way into the Financial Poise Faculty. Start learning today at https://www.financialpoise.com/
Share article on social media or email: