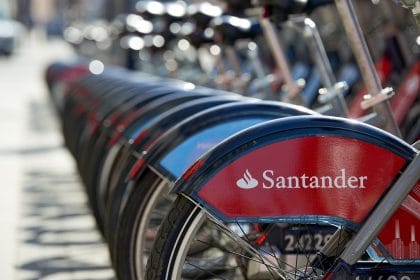 One Pay FX – Ripple and Banco Santander's joint collaboration – is looking to get a share of the FinTech market by using innovative solutions that offer transparent, low-cost and faster banking services to its customers.
Spain's multinational banking group Banco Santander is working to expand its One Pay FX international payments to 19 more countries. Santander is working with blockchain startup Ripple to expand its global footprint. As a result, the banking giant will tap Ripple's blockchain-based cross-border service RippleNet.
The lender stated that it will use the RippleNet system to power 'some payments' on One Pay FX for instant processing. One Pay FX is a joint collaboration between Banco Santander and Ripple facilitating same-day settlement of international payments. Available in an app form, One Pay FX is also intuitive to use and designed for today's business needs.
Adopting blockchain-based payments solutions has helped the banking giant to compete with emerging startups in the FinTech space. This forward-thinking approach has also helped Banco Santander to defend its market position. Speaking of this recent partnership, One Pay FX Chief Technology Officer Ed Metzger said:
"We want to be at the forefront of the merging of finance and technology, but our innovation is always customer-led. Customers told us that the international payments process could be better so we partnered with Ripple to explore how blockchain could make transactions faster, cheaper and more transparent."
Santander Adopts Ripple Blockchain Technology for Faster Global Payments
With the internet revolution, businesses have found their customers worldwide. As a result, there has been an ever-growing demand for faster cross-border payment systems than ever before. Currently, Banco Santander offers global payment services to its 140 million customer base – retail and commercial – worldwide.
Based on their customer feedback, Metzger said that the major challenge for the bank to overcome the lack of clarity and transparency in payment. The customers were not confident about the fees charged and how much money the recipient gets. Santander decided to solve these specific pain points using while selecting Ripple as its ideal partner. Metzger added:
"Ripple also helps us address the speed issue of international transactions. Some payments on One Pay FX now happen instantly. I made a payment recently from an account I have in Spain to one in the UK and received text alerts about the transaction from both accounts within seconds of one another."
Ripple and Banco Santander launched the One Pay FX app in 2018 and seen a significant change in customer behavior. cheap transaction costs and faster settlements have attracted more customers in the last two years. With this new partnership, Santander foresees a healthy growth going ahead.
Banco Santander is competing with other unicorn startups like Transferwise, TransferGo, and the UK remittance firm Xendpay.
Blockchain News, FinTech News, News
Author
Bhushan Akolkar
Bhushan is a FinTech enthusiast and holds a good flair in understanding financial markets. His interest in economics and finance draw his attention towards the new emerging Blockchain Technology and Cryptocurrency markets. He is continuously in a learning process and keeps himself motivated by sharing his acquired knowledge. In free time he reads thriller fictions novels and sometimes explore his culinary skills.