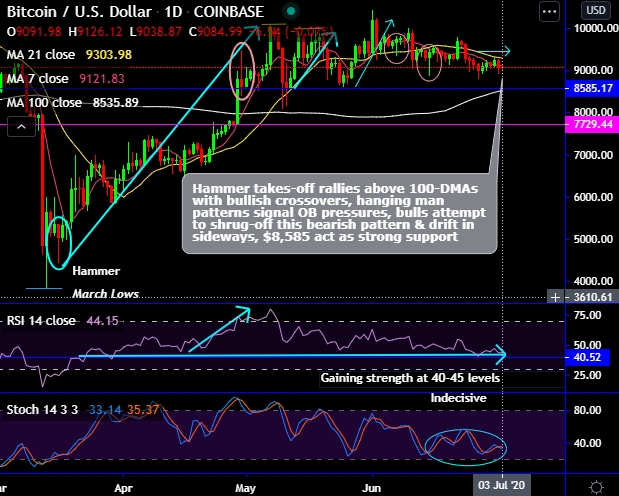 The Bitcoin price (BTCUSD at Coinbase) briefly plunged towards $8,900 levels during the last weekend before an eruption of buying pressure influenced the pioneer cryptocurrency back above the key $9000 psychological level. However, bears tried the same 8,900 levels yesterday again but drifting in sideways for the day. Such price action reminds us quite often about the strong demand zone for BTC at 8,585 levels.
Bitcoin price was drifting in sideways from the recent past, as though it was making a trend-defining movement that lasted over the past couple of weeks.
Technically, hammer takes-off rallies above 100-DMAs with bullish crossovers, hanging man patterns signal OB pressures, bulls attempt to shrug-off this bearish pattern & drift in sideways, $8,585 act as strong support (refer daily chart).
Bitcoin's put/call ratio indicates the intricacies of the underlying price action as put (bearish) options total 40% of the current open interest which is considerably down from 80% during pre-halving peak (data as per skew). Nonetheless, this cannot be perceived totally as a major bullish indicator by itself, it can't be studied in isolation, because other factors such as which the strike prices and expiries have been considered will also matter.
Usually, derivatives contracts, in the current era, are rather speculative instruments, with the prime objective of deriving a capital gain or loss out of negligible amount of capital.
During course of the COVID-19 pandemic circumstance, the virus ravaging the entire global financial outlook recovering from the shock, the crypto derivatives market started growing significantly, reaching an all-time high volume of $600 billion in March.
As more upside risks are still on the cards in the days to come with the strong supports of $8,585 and $7,950 levels (i.e. 100-DMAs), hence, long hedges have already been advocated using CME BTC Futures when the underlying BTC was trading at $4,927 levels, and we wish to uphold the same positions with July months deliveries. It is unwise to keep speculating on the next upside target and accumulate fresh bitcoins. Instead, one can certainly uphold the above advocated long hedges for now (spot reference: 9,080 levels).